"Days Like Smoke: A Minnesota Boyhood" by Jon Hassler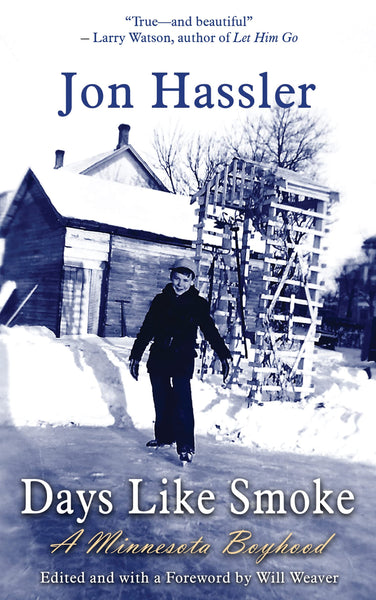 Public Media Market is a participant in the Amazon Services LLC Associates Program. 
When you shop using our links, we earn a small commission. It's a great way to support public media at no extra cost to you!
I've always thought of the Red Owl Grocery Store in Plainview, Minnesota, as my training ground, for it was there that I acquired the latent qualities necessary to the novelist: from my dear German father, endurance, patience, resilience, and sound working habits, and from my dear Irish mother, the fun of picking individuals out of a crowd and the joy of finding the precise words to describe them. No one took more nourishment away from that store than I.
Beloved Minnesota novelist Jon Hassler, who chronicled small-town Midwestern life in such popular novels as Staggerford, A Green Journey, and North of Hope, left the manuscript for one important story unfinished when he died: his own. Days Like Smoke: A Minnesota Boyhood is Hassler's previously unpublished memoir of his youth in rural Minnesota during the 1930s and 40s, giving us his memories and experiences through a writer's acute and detailed observations. He remembers piano lessons, small-town secrets, his passion for movies, and his holy duties as the only altar boy at St. Joachim's. 
He imagines how Sylvia Pofford spent the night of the prom that they did not attend together, and he recalls Miss Glaswitz, his unmarried neighbor "who kept . . . a neat, overfurnished house on Broadway, in each room of which was a glass-covered dish filled with hard candy," who "surprised us all by selling it and marrying a cattle buyer from St. Paul." With chapters organized by simple themes such as houses, lessons, and groceries, and ever attuned to the idiosyncrasies of the people around him, Hassler reviews his early years and occasionally reveals when a particular neighbor, teacher, or friend inspired a character or scene in his writing.
Will Weaver, another successful writer devoted to rural Minnesota, first met "Mister Hassler" as his older sister's English teacher in Park Rapids. Weaver gently edited Hassler's unfinished manuscript and contributed a moving foreword that gives readers biographical information about the author as well as describing the literary connections with his life and, above all, his empathy for the real residents and imagined characters of small-town Minnesota.