"I Named My Dog Pushkin (And Other Immigrant Tales): Notes From a Soviet Girl on Becoming an American Woman" by Margarita Gokun Silver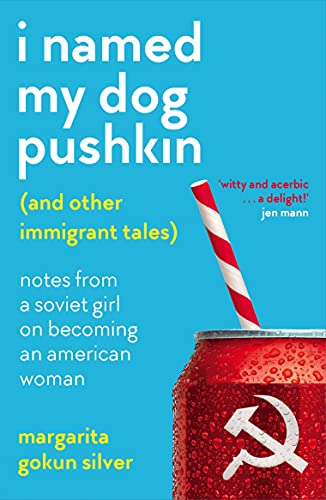 Public Media Market is a participant in the Amazon Services LLC Associates Program. 
When you shop using our links, we earn a small commission. It's a great way to support public media at no extra cost to you!
Fake an exit visa, fool the Soviet authorities, pack enough sausage to last through immigration, buy a one-way Aeroflot ticket, and the rest will sort itself out. That was the gist of every Soviet-Jewish immigrant's plan in the 1980s, Margarita's included. Despite her father's protestations that they'd get caught and thrown into a gulag, she convinced her family to follow that plan.

When they arrived in the US, Margarita had a clearly defined objective – become fully American as soon as possible, and leave her Soviet past behind. But she soon learned that finding her new voice was harder than escaping the Soviet secret police.

She finds herself changing her name to fit in, disappointing her parents who expect her to become a doctor, a lawyer, an investment banker and a classical pianist – all at the same time, learning to date without hang-ups (there is no sex in the Soviet Union), parenting her own daughter 'while too Russian', and not being able to let go of old habits (never, ever throw anything away because you might use it again). Most importantly, she finds that no matter how hard you try not to become your parents, you end up just like them anyway.