Mad, Bad & Dangerous to Know by Samira Ahmed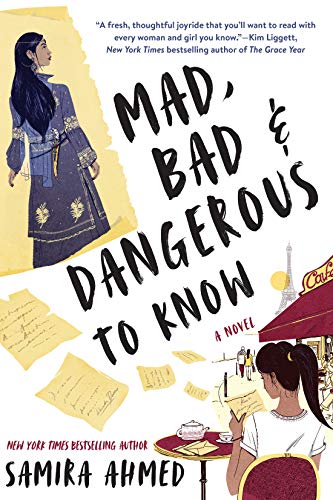 It's August in Paris and 17-year-old Khayyam Maquet—American, French, Indian, Muslim—is at a crossroads. This holiday with her parents should be a dream trip for the budding art historian. But her maybe-ex-boyfriend is probably ghosting her, she might have just blown her chance at getting into her dream college, and now all she really wants is to be back home in Chicago figuring out her messy life instead of brooding in the City of Light.

Two hundred years before Khayyam's summer of discontent, Leila is struggling to survive and keep her true love hidden from the Pasha who has "gifted" her with favored status in his harem. In the present day—and with the company of a descendant of Alexandre Dumas—Khayyam begins to connect allusions to an enigmatic 19th-century Muslim woman whose path may have intersected with Alexandre Dumas, Eugène Delacroix, and Lord Byron.

Echoing across centuries, Leila and Khayyam's lives intertwine, and as one woman's long-forgotten life is uncovered, another's is transformed.
Public Media Market is a participant in the Amazon Services LLC Associates Program, an affiliate advertising program designed to provide a means for sites to earn advertising fees by advertising and linking to

amazon.com

.