The Dinosaur Artist: Obsession, Betrayal, and the Quest for Earth's Ultimate Trophy by Paige Williams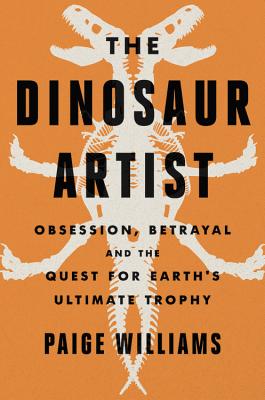 In 2012, a New York auction catalogue boasted an unusual offering: "a superb Tyrannosaurus skeleton." In fact, Lot 49135 consisted of a nearly complete T. bataar, a close cousin to the most famous animal that ever lived. The fossils now on display in a Manhattan event space had been unearthed in Mongolia, more than 6,000 miles away. At eight-feet high and 24 feet long, the specimen was spectacular, and when the gavel sounded the winning bid was over $1 million.

Eric Prokopi, a thirty-eight-year-old Floridian, was the man who had brought this extraordinary skeleton to market. A onetime swimmer who spent his teenage years diving for shark teeth, Prokopi's singular obsession with fossils fueled a thriving business hunting, preparing, and selling specimens, to clients ranging from natural history museums to avid private collectors like actor Leonardo DiCaprio.

But there was a problem. This time, facing financial strain, had Prokopi gone too far? As the T. bataar went to auction, a network of paleontologists alerted the government of Mongolia to the eye-catching lot. As an international custody battle ensued, Prokopi watched as his own world unraveled.

In the tradition of The Orchid Thief, The Dinosaur Artist is a stunning work of narrative journalism about humans' relationship with natural history and a seemingly intractable conflict between science and commerce. A story that stretches from Florida's Land O' Lakes to the Gobi Desert, The Dinosaur Artist illuminates the history of fossil collecting--a murky, sometimes risky business, populated by eccentrics and obsessives, where the lines between poacher and hunter, collector and smuggler, enthusiast and opportunist, can easily blur.

In her first book, Paige Williams has given readers an irresistible story that spans continents, cultures, and millennia as she examines the question of who, ultimately, owns the past.
Public Media Market is a participant in the Amazon Services LLC Associates Program, an affiliate advertising program designed to provide a means for sites to earn advertising fees by advertising and linking to

amazon.com

.