"The Veiled Throne" by Ken Liu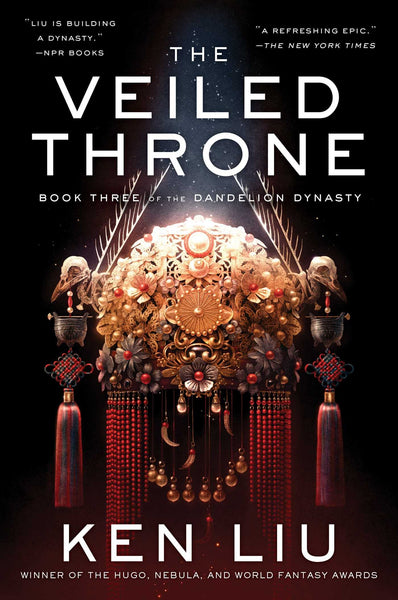 Public Media Market is a participant in the Amazon Services LLC Associates Program. 
When you shop using our links, we earn a small commission. It's a great way to support public media at no extra cost to you!
Princess Théra, once known as Empress Üna of Dara, entrusted the throne to her younger brother in order to journey to Ukyu-Gondé to war with the Lyucu. She has crossed the fabled Wall of Storms with a fleet of advanced warships and 10,000 people. Beset by adversity, Théra and her most trusted companions attempt to overcome every challenge by doing the most interesting thing. But is not letting the past dictate the present always possible or even desirable? 
In Dara, the Lyucu leadership as well as the surviving Dandelion Court bristle with rivalries as currents of power surge and ebb and perspectives spin and shift. Here, parents and children, teachers and students, Empress and Pékyu, all nurture the seeds of plans that will take years to bloom. Will tradition yield to new justifications for power? 
Everywhere, the spirit of innovation dances like dandelion seeds on the wind, and the commoners, the forgotten, the ignored begin to engineer new solutions for a new age. Ken Liu returns to the series that draws from a tradition of the great epics of our history from the Aeneid to the Romance of the Three Kingdoms and builds a new tale unsurpassed in its scope and ambition.