You Are What Your Grandparents Ate: What You Need to Know About Nutrition, Experience, Epigenetics and the Origins of Chronic Disease by Judith Finlayson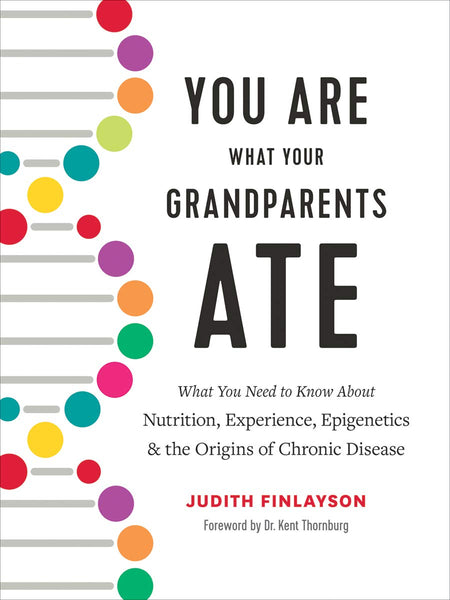 You Are What Your Grandparents Ate takes conventional wisdom about the origins of chronic disease and turns it upside down. Rooted in the work of the late epidemiologist Dr. David Barker, it highlights the exciting research showing that heredity involves much more than the genes your parents passed on to you. Thanks to the relatively new science of epigenetics, we now know that the experiences of previous generations may show up in your health and well-being.
Many of the risks for chronic diseases -- including obesity, type 2 diabetes, high blood pressure, heart disease and dementia -- can be traced back to your first 1,000 days of existence, from the moment you were conceived. The roots of these vulnerabilities may extend back even further, to experiences your parents and grandparents had -- and perhaps even beyond.
Similarly, what happens to you will affect your children and grandchildren. That's why it's so important to make good dietary choices, get a suitable amount of exercise and be cautious about exposure to toxins. Positive lifestyle changes have been shown to spark epigenetic adjustments that can lead to better health, not only for yourself, your offspring and their children, but also for generations to come.
This book makes hard science accessible. It is a call to action for social as well as personal change, delivering the message that by changing our own health, we can also influence the future of the world.
Public Media Market is a participant in the Amazon Services LLC Associates Program, an affiliate advertising program designed to provide a means for sites to earn advertising fees by advertising and linking to

amazon.com

.